Incentive Programs

We deliver on-time and on-budget, every time.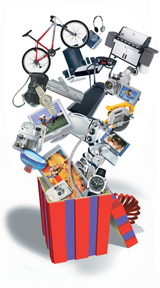 Let us show you
how to…
Change Your Culture
Shift Employee Consciousness
Reduce Accidents
Reduce Absenteeism
Reduce Labor Costs
Improve Morale
Maximize your ROI to Save Money!
Using these IncentPros Programs…
Safety or ESH Incentive Programs
Service and Longevity Award Programs
Sales Goals and Incentive Award Programs
Health and Wellness Incentive Programs
Employee Recruitment and Retention Programs
Incentive Programs of any kind to promote Best Practices
Invest a few minutes of your time to let the experts at IncentPros show you what we can do for you! Contact us by phone: (281 or 877) 376.7677 or email: sales@incentpros.net


Designing your Program… Always Custom—Never Cookie Cutter

"Always design a thing by considering it in its next-larger context."- Eliel Saarinen

Many companies that offer Recognition and Reward (Incentive) Programs consider them to be a sideline—their first presentation is often their only one, and might consist wholly of third-party brochures and catalogs. IncentPros will bring much more to the meeting. We will have the right questions, a familiarity with well-tested strategies, and an insight to innovative solutions designed to assist you in defining your goals and planning the steps, budget and timetable to achieve those goals. The IncentPros experts are a cut above the rest!
back to top

We will map out each step of your program with you. As we go through this process with you, here are some common questions:
What are the differences between an online and a gift-card program?
What is the little-known tax statute that can save both your company and employees 20 percent (or more) of each dollar awarded as an incentive?
Is it better to give incentives frequently or over a longer period?
Is it better to recognize team effort or individual achievement?
Why not just have a drawing for one big award?
How can invoice language help to maximize program flexibility?
Why does the roll-out date of your program matter?
What common first-year pitfalls can be avoided with proper planning?
Why is it important to promote an incentive program to participants?
What simple steps can substantially improve the return on your investment (ROI) in an incentive program with little or no cost?
We know the answers to these questions, and will share them with you.
An integral part of our design strategy includes creating your program, and then vetting it with your Legal, Information Technology and Accounting departments. We will also participate as actively as you wish in presenting the program to your corporate leadership and other decision-makers.
We develop a complete budget, including elements such as custom printed posters, catalogs and brochures that are often not considered part of the design phase. Our planning includes minor, yet important, details such as multi-jurisdictional sales tax.
The result of our design work is a custom plan that is meets your goals, your budget and your timeframe.
back to top


Implementing your Program

"The best laid plans of Mice and Men often go astray."- Robert Burns
The above words don't rhyme very well, even in the original Scottish brogue. The reason this saying is well known is because of the underlying truth—having a great plan does little good if the same care and attention that went into creating it is not also given to its implementation.
Many marketers are minimally involved in the Incentive Programs they sell; they deliver the gift list, then sit back and wait for the orders to come in from you. We believe that it serves yours and our interests to help create the excitement and attention that open your employees to the possibilities offered by your incentive program. We see this as a progressive process: first, employees see great items they want and are willing to go out of their way to earn. Then, they begin to pursue the criteria to achieve the incentive—best practices in safety, health, performance and attendance. As the program matures, these practices are assimilated into your company's culture, becoming the standard.
One of the magic phrases in business these days is "Return on Investment" (ROI). With the high expense associated with accidents, absenteeism, training replacement employees and creating employee interest in doing what's best for the company, few investments will show a higher ROI than a successful Incentive program. We believe that if one of your major considerations is the ROI achieved by aggressively reducing accidents, absenteeism and retention issues, it is critical that you understand both sides of the equation—the realistic potential benefit and potential costs associated with your Incentive Program.
One of the most important decisions in planning your budget is what expenditures of time and money you invest in the initial implementation and program roll-out to your employees. Brochures, posters and other printed materials are often overlooked as a part of the total solution. Another item forgotten in the planning of a program is the roll-out event (or events) and other "attention-getters" to help employees begin to recognize the maximum benefits of the program in as short a time as possible. While we will avoid unnecessary expense, we do make sure that you understand what implementing the most effective program will cost.
Setting up the Program Rule Structure, Exception Policies and required Support Technology are all part of the behind-the-scenes work we will accomplish on your behalf. Our assistance, training and support are integral to bringing a Recognition & Reward concept into reality, transforming it into an ongoing manageable program.
back to top


Managing Your Program


"Turn-key" adj. Fully ready for use, ready to be put into operation; completely designed and produced.
-Concise Oxford Dictionary
Here's a common question: "How many more administrative staff will I have to add to keep this program running and successful?" We think you'll like our answer.
When we refer to a "turn-key solution", it's because we believe we are giving you the keys to a high-performance vehicle. You control how fast we go and decide on the direction. We supply the technology, staff and materials to get you there with minimal impact on you or your existing staff. At a cost of just pennies a day, IncentPros will provide each of your employees the telephone and online support they need to answer questions, helping them become fully integrated into the program.
You will stay in-budget and goal-centric. More importantly, once you approve a specific step in the program, IncentPros will be doing the design, implementation, and management work to make it happen. Your program will be uniquely suited to addressing the separate goals of your company's participating departments. In fact, the more departments involved in program, the more successful the program for each department. One program can achieve multiple departmental goals, bringing your company together in reducing accidents and promoting best practices, minimizing absenteeism and celebrating length of service, improving and maintaining overall morale, and any other specific goals you wish to achieve.
Here are some of the other features and services that can be integrated into our complete solution:
Customized certificates and products to promote your program
Fulfillment and distribution of awards and materials
Management of warranty and return issues
Integrated online store
Distribution network for employees to receive quick access to related safety, uniform and other company-supplied accessories with full accounting, quality and quantity controls
Technology for distribution of continuously updated policies, manuals and procedures
Comprehensive detailed invoice breakdown to your accounting department's specifications
back to top



Home I Incentive Programs I Consulting I Our Clients I About Us I Contact Us